---
pain®gone TENS pen Effective Drug-free Pain Relief Anytime, Anywhere. As easy to use as a pen!
The pain®gone pen works by delivering controlled electrical impulses that stimulate the nerve fibers. The nerve pathway then sends a message to the brain to release endorphins (your body's natural pain killers) to stop the pain. The pain®gone electrical impulses come from a piezo-crystal sealed inside the device. Treatments are fast and pain free.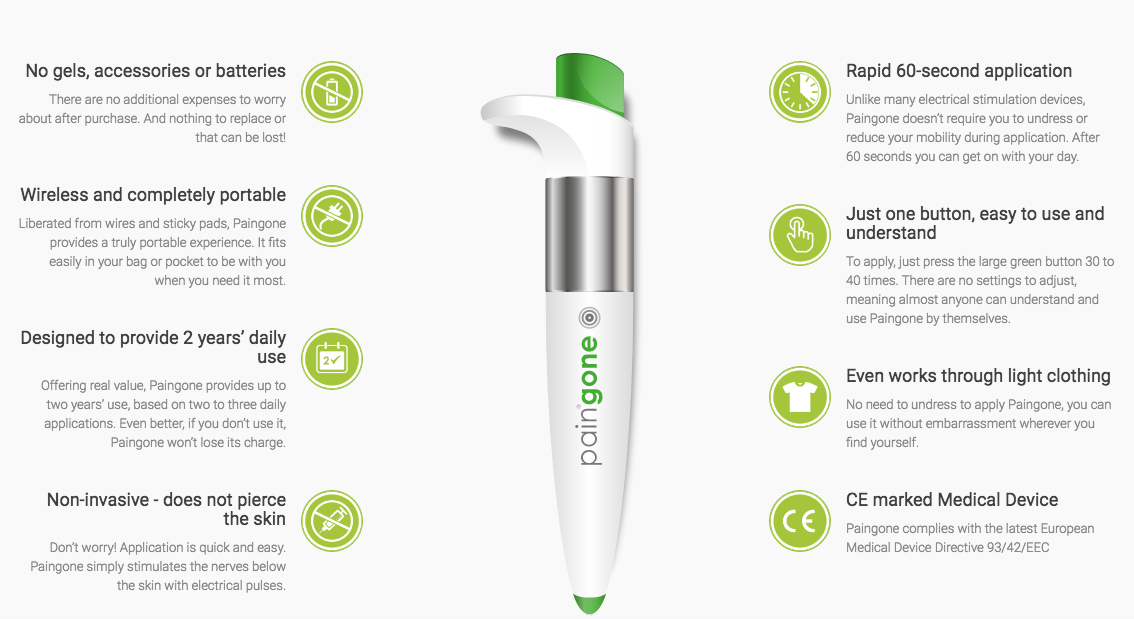 Features
Health Canada Licensed
Use anytime, Anywhere
Handy Pocket Size
No leads, Pads or Batteries
Maintenance Free
Works Through Clothing
No Negative Side Effects
Lasts Up to 2 years or 100,000 clicks
Safe & Simple to Use
Effective for Arthritis, Siatica, Joint Pain, Migraines & most other physical pain
INCLUDES 10 FREE Patient Brochures, please select your language.
Comes with acupuncture guide and user manual
Over 1 Million Sold Worldwide!
FAQs
Is it easy to use? Yes. There are no leads, accessories or complicated settings. Simply grip the pain®gone pen in your hand assuring you make contact with the metal band. Then place the tip on the point of your pain and depress the green button 30 - 40 times quickly. The entire treatment takes about less than a minute per region. Pain®gone can be used directly on your skin or through light clothing.
Does it hurt? No. You will feel the pulse and you may be surprised by the tingling feeling, but it is not painful. If you feel in any way uncomfortable, use the pain®gone through light clothing or a tea towel.
How long does it take? In many cases, you will notice immediate relief. However, for some people or conditions it may take a few days. To achieve the full benefits of the pain®gone, you should use it regularly for 2 weeks. Clinical studies show overwhelming success rates, with up to 92% of pain sufferers reporting a drastic improvement in their condition.
Who should use it? Pain®gone can be effectively used for most types of physical pain. Use it to manage pain from recent injuries or for chronic, long term conditions like arthritis, rheumatism and fibromyalgia. It is not recommended for people with pacemakers, epilepsy or for pregnant women. If you are unsure, you should consult a medical professional before use.
Is it safe? Could I over use it? Pain®gone is very safe. It does not interact with medications and in clinical trials, no side effects were observed. Pain®gone is safe to use as often as you require. You can not overdose on the stimulating impulses, so you are free to treat multiple regions of your body during each session. It is a drug free way to manage your pain.
Can someone else do the treatment for me? Yes. If your pain is in an awkward region or you need help, someone else can apply the treatment. They should grip the pain®gone in the same way (assuring contact with the metal strip) and use their other hand to hold on to you somewhere, like your shoulder or hand. This closes the circuit for the electrical impulse.
Why does it come with an acupuncture guide? Research has shown that stimulation pulses like those provided by pain®gone can be used effectively for non-invasive acupuncture. It is your choice whether you use it at the site of your pain or at the acupuncture points illustrated in the guide.
Is it recommended by healthcare professionals? Pain®gone is used in clinics and hospitals all over the world. It is often recommended by healthcare professionals to their patients for home use. Because pain®gone has no side effects, it can easily become part of your overall treatment plan. Pain®gone is a licensed medical device by Health Canada.
Does it have a warranty? Pain®gone comes with a one year warranty against manufacture's defects. However, it will last for 100,000 pulses. For average users, that is about two years.
Does it need batteries? No. The pain®gone electrical impulses come from a piezo-crystal element sealed inside the device. It does not need batteries and never needs to be charged, so it is always ready for use.
Health Canada Medical Device License Number:
95815
Register your paingone today and in addition to the 12 months manufacturers warrant you will benefit benefit from a further 12 month replacement cover in case of manufacturing fault. If your paingone develops a fault within 2 years of purchase, simply return the device with a copy of the purchase receipt and a replacement device will be sent to you free of charge. Cover is from the date of receipt and a replacement cannot be given if we believe the malfunction is from misuse.